Capture Scenes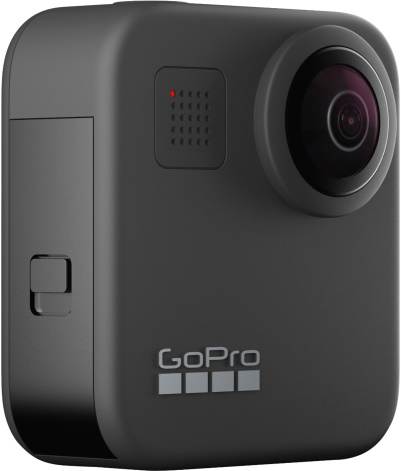 The GoPro MAX camera is capable of quickly capturing fully immersive 360 video at 5.6K resolution. The process includes 3 steps:
Prepare your GoPro camera
Capture a live scene
Export the video to PRISM
Prepare
Requirements: GoPro MAX camera, high-speed micro-SD card (see card requirements)
GoPro makes it very easy to grab the camera and instantly start recording without loading any software on your mobile device or computer.
Camera Mode: Set the camera to video mode. Swipe left or right on the touch screen to switch to video (other modes are still image and time lapse).

Video Mode: Set the camera to 360 mode and 5.6K resolution. On the camera's built-in screen, tap the screen regions indicated below to configure correctly.
Be sure to fully charge your camera before embarking on a capture journey and you have inserted the high-speed memory card (as included with your PRISM system).
Capture
Requirements: Tripod (included) or selfie-stick
GoPro does an excellent job automatically adjusting for scene brightness and stabilizing against camera shake. The stabilization is so good that even handheld video capture is often acceptable.
Height: Before shooting your video, think about how you want to experience it later. Specially, determine your recording height. For accurate recreation of 360 experiences in PRISM, you need to match the height at which your video is recorded with the height your video is later rendered and experienced. In short, if you plan to have your users experience a surround scene standing in the PRISM theater, then adjust your camera on the tripod so it's height during recording matches the eyeheight of the user when viewing. Similarly, if you intend to have users seated on the ground while later viewing, adjust the tripod during recording to match. Do your best but know that if you're off a few inches it'll likely be fine.

Direction: Orient the camera so that one of the lenses directly faces your primary subject. Even though GoPro MAX captures everything around you, you'll get better footage if you lock in on your subject.

Record: Press the Shutter button to start and stop recording.

Preview: Optionally, you may find it convenient to download the GoPro mobile app for your iPhone or Android device. The app lets you preview the camera capture on a larger screen as well as start and stop the video recording remotely. On the app store, look for "GoPro Quik: Video Editor".

While the mobile app does let you edit and export the video captures on your mobile device instead of using a Mac or PC method described below, from our experience the workflow is considerably faster using a computer and the export quality is more reliable.
Export
Requirements: A Mac or PC, and a USB micro SD card reader or USB-C cable
GoPro records the 360 surround videos into a proprietary format that must be exported using their tools before it can be brought into any non-GoPro software product. This steps explains how to achieve this. You can also use this step to trim off any unwanted portions of your recordings.
Install: If you haven't already done so, download and install GoPro Player, a free and lightweight video editor and exporter tool (no registration is required to use).

Import: Import the camera media into GoPro Player. You can either remove the micro-SD card and connect it to your computer using a card reader or connect to the camera using the included USB-C cable. For the latter, be sure to turn the camera on while attempting to import media.

Edit: The two basic editing functions you're likely to need are trimming and leveling. The picture below shows you where to find these. For more information on using the GoPro Player application, you can watch their help video.

Export: To export your video at full resolution, select File > Export as, select Advanced Option and configure as shown below. Once exported, you can simply drag and drop the video file into your PRISM scene browser to start creating a new scene.
More Help
For further help on using your GoPro MAX camera, try these GoPro guides: